A very special Rolls Royce Dorothy endorses Brumby.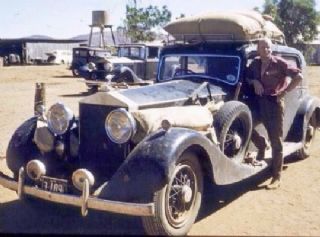 Rolls Royce Phantom 2 - chassis 51RY - was built in December 1933 and shipped to Melbourne Australia in March 1934. In 1956 she moved to a remote cattle station called Narwietooma located near Alice Springs. Her new owner, E J Connellen, Esq. was an aviation legend of Australia, the founder of the then active Conair airlines.
EJ also owned an Alpine Eagle Silver Ghost and a Phantom 1, and all vehicles at the station had to work for their keep; the Silver Ghost was used to pull up shrubs to build aerodromes, the Phantoms worked as conveyance for guests for hunting trips and goods alike, including sacks of grains stuck between the wings at times.
After the passing of EJ, the famous Silver Ghost was placed in a glass cage and to-date she is still a permanent display at the foyer of Alice Springs airport. The Phantom 1 was given away, and EJ's son Chris converted the Phantom 2 into a Pall Mall-style open tourer. He used to drive his family regularly around Yipon in Queensland, his children would duck under the seats when in town because they didn't want to be seen riding in an old car!
Dato' H K Sia of Malaysia procured 51RY from Chris in 2013, shipped her to Malaysia and restored her mechanically. She was christened 'Brumby' to reflect her thoroughbred beginning and wild horse-like life in Alice Springs.
Sia brought Brumby to take part in the ERA's (Endurance Rally Association) Trans America Rally in summer 2015. Starting from Halifax in Nova Scotia, they journeyed through Quebec, Buffalo, Duluth, Rapid City, Reno and ended in San Francisco. Along the way she broke a few push rods, burnt the magneto and the ignition rotor, and had fuel vaporisation. With the help of the Rolls Royce Club in the USA, parts were always delivered within 24 hours to the hotel ahead, enabling Brumby to start on time each rally day, and eventually winning the 'Spirit of the Rally' award at the prize giving!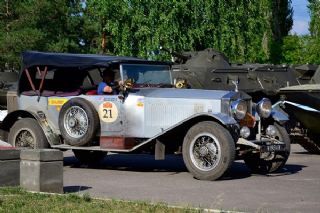 In the summer of 2016, Sia replaced the heavy wings of Brumby with London to Edinburgh Silver Ghost-style cycle wings and took part in the ERA's 2016 Peking to Paris Motor Challenge. Starting from the Great Wall of China the route went through the Gobi Desert to Mongolia, but the car suffered a bad engine fire in the desert near Uliastai. Brumby had to be carted 1,000km back to Ulan Bator. Through sheer perseverance a team of mechanics was able to revive Brumby in three days, using second-hand electrical parts from scrap yards.
Sia was able to catch up with the rally 12 days later at Kazan, Russia and went on to complete the rally and finish in Paris. At the celebrations Brumby and her crew were presented with the 'True Grit' award. And, for his determined effort, Sia was also voted 'Personality of the Year 2016' by Poland's Classic Auto magazine.
Starting on 12 October 2017 Brumby begins a new adventure, as Dato' H K Sia has entered the 4C (Classic Cars Challenge China) – the seventh edition of this classic rally which starts in Beijing and finishes in Shanghai on 19 October.
Retro-Speed will be there reporting as the event unfolds and wishes Dato' Sia and his team the very best of luck.